Recent Changes in the MFRP
by Yasmeen
26 December 2015
The MFRP has a lot of great climbing, and a brand new book to help you find it! But it is still a very new area, and is still receiving a lot of development. Part of this process is putting in the trail system to access it. Originally, the roads were the way to get from point A to point B. They still work well, and visitors are welcome to use them, but they have some severe rutting and drainage issues in certain areas. To that end, new access trails are going in to avoid the mud and ATVs that frequent the roads.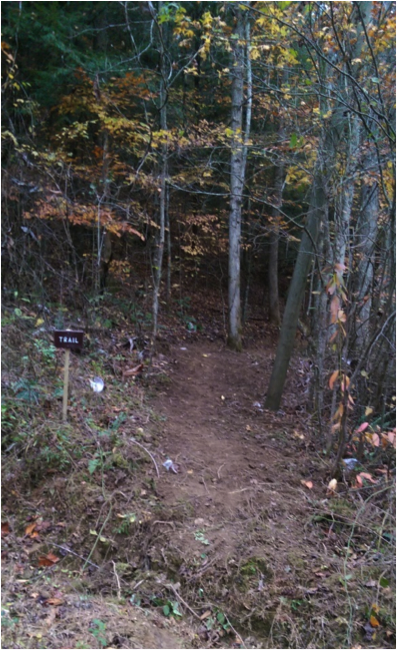 Last JATD, 2 new trails were put in from the parking lot: a main artery access trail on the East and West sides. The West side had some issues with drainage and some steep areas that were slippery when wet.
This past month, the NCCC, or National Civilian Community Corps, were in the area and graciously volunteered their free time to help complete some stonework sections to help alleviate these issues.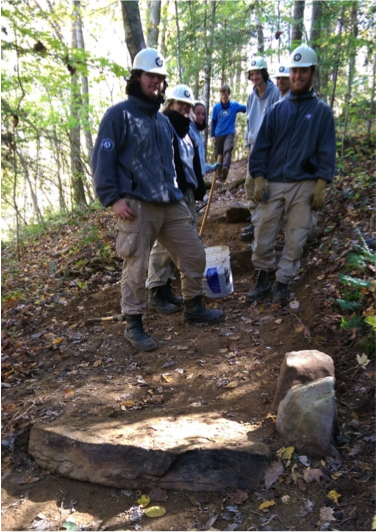 In the past month, they have cut a new start to the West trail, put in several drainage ditches, and put in several small sets of stairs. The hope is that these improvements will alleviate the slip and slide issues, keep the trail dryer, and make the trail more enjoyable getting to and from the crags.
These kinds of trail projects are a common and very important part of maintaining trails as they wear in. Weather, compaction, and early wear patterns help show where trails can be improved so they last longer and require less long term maintenance.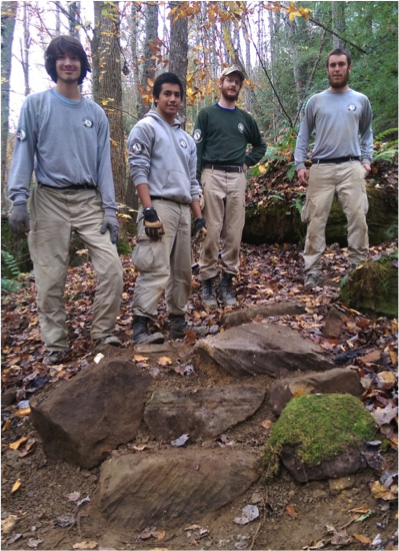 The plan is to extend these express trails away from the roads for a more natural and less muddy hike. Trail days are planned for multiple weekends this winter, please visit the RRGCC webpage to sign up and join us! We plan on improving the current express trails, continuing the express trails further into the property, then improving the individual crag access trails and bases to the climbs, and finally to add some additional trails to link everything together.
As trails go in, the kiosk in the parking lot and additional maps on the trails will get updated. Take a picture with your smartphone and try out the new trails! More signs will be going in as well. With your help, this land we bought can continue to grow into our ideal playground.
We are pleased to announce that the West main artery trail is complete up to the bridge before Bowman creek. The creek has stepping stones for easy navigation until the final bridge can be put in. It will be easy to navigate until spring. This trail can be used to reach all of Bowman fork, or to avoid half of the roads heading towards Hell creek or the West side of Miller fork.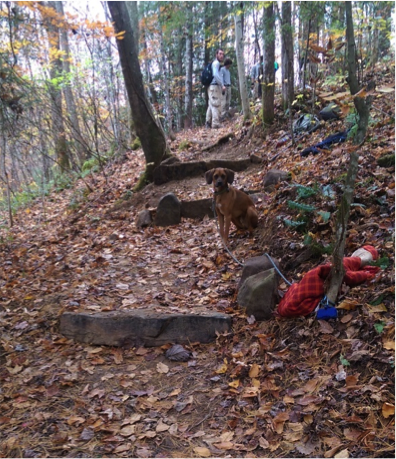 The East main trail can also be used to access all of Miller and Hell creek.