JATD 2014 Recap
by Mike Driskell
21 July 2014
All told, over a mile of trail built, 15 new signs in 8 locations, one large 35 foot bridge, and one smaller 12 foot bridge done.
Months of hard work, planning, and layout culminated in what in my opinion was one of our most successful and unhindered trail days ever. Despite the weather, over 100 folks came out to support, maintain, and show a little love and understanding for the crags we call home. The long hours in the woods and the days away from home all ended in one of the most satisfying events for me personally all year long. Cheers to those of you that paved the way, to those of that came out this time, and to those that shall come after who will enjoy our success (and hopefully come to appreciate it as we do).
Roger Bess, Eric Cox, & Josh O'Bryan – This large crew built the new bridge across creek to access Highlands, Monastery, Middle Earth, Corner Pocket, Neverland, etc. Constructed of large (and very heavy) telephone poles donated by AT&T (that donation was facilitated by Dedra Brandenburg and Lee County Tourism). The were stored at and delivered by Culver Supply, owned by Robert Stamper.
Jay Weekly & Katie Gamble – Installed new signage in 8 new locations and signs for 8 new crags. They were made and routed by Driskell Home Repair and DHR was assisted by Travis Peek, Geoff Graham, and Josh O'Bryan.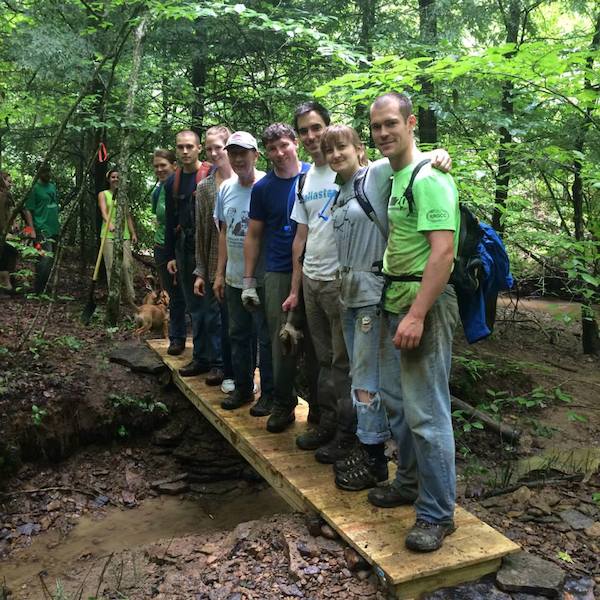 Pat Marrinan – This crew carried out a new foot bridge (built By DHR) to its new home over .25 miles back. They dug into the earth and built a solid base for its new home.
Art Cammers & Patrick Miller – Cut in new trail, armored bases, and improved existing layout of current trail at the Monastery. Furthered access trail to Middle Earth.
Dan Beck & Quinn Hill – Built first section of "Highlands area" trail re-route of of creek, including stairs and approximately 150 yards of trail. This re-route avoided several creek crossings that would add maintenance and upkeep costs.
Dan Chandler & Joel Handley – Built trail across a difficult and wet low lying area including significant armoring and drainage. This section avoided several more creek crossings, further reducing our maintenance costs.
Blake Maddox & Elemental Climbing Club – Armored a significant problem area where ATVs cross creek when water is high. To prevent erosion and maintain the ability for local users to use it, we armored the area using large stones, gravel, and creek rock. Efforts will also prevent further erosion to new bridge built with the assistance of the Access Fund Traveling Trail Crew.
Hannah & Andrew Tolliver – These guys were the independent force in the PMRP's Flat Holler area, building a trail to the Shipyard – a new crag that includes 22 new routes. They were also able to make significant progress towards the famed "Waterfall Arch" in the Flat Holler area – a new multi-use trail destination!
Adam Gregory & Jesse Sterr – Installed some amazing new stairs moving into an awesome and well-built trail system that leads to the Hal Gardner Memorial Crag (currently under development). They covered approximately 100 yards or better with less than 15 cats!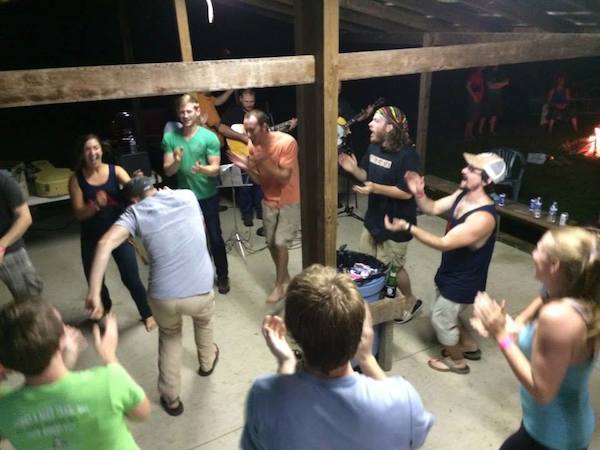 Lago Linda Hideaway – Linda opened her campground and pavilion to our sweaty, dirty lot and gave us a place to convene and organize in the morning, and eat, party, and sleep at night!
Red River Rockhouse – Aaron and crew kicked off the evening festivities with delicious meat and veggie burgers, pasta salad, and cole slaw!
Miguel's Pizza – Miguel and his staff supplied delicious veggie and meaty wraps for all the volunteers for a mid-day refueling!
Mike Creech Band – Kept everyone moving throughout the night to their fun and upbeat tunes, going with the flow and switching to a few Limbo-inspired songs when an impromptu Limbo tournament broke out!