2010 Rocktoberfest Clip and Go Climbing Competition Information
by Rick Bost
01 October 2010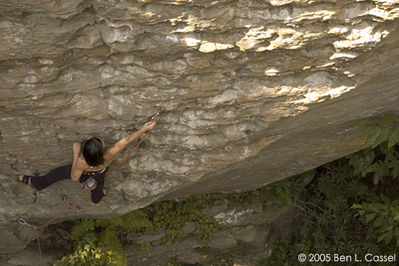 Join us for the Outdoor Clip n' Go Comp
Rocktoberfest is about celebrating the Red and our property, the Pendergrass-Murray Recreational Preserve. It has hundreds of classic and beautiful routes. What better way to enjoy them to time you guys and throw prizes your way to make sure you get outside now and again.
So come out and compete in the 3rd Annual RRGCC Rocktoberfest Clip and Go Climbing Competition at the Sore Heel Crags.
Location : Sore Heel Climbing Areas (guide) (map)
Date : Saturday, October 9, 10am – 5pm
Cost : $15 / Person, $25 / team
The rules are simple.
Points are earned by bolts clipped on redpoint. Go ahead try as many times as you want, only your high point counts. The anchors always count as two bolts.
There is a multiplier for difficulty so harder routes are worth more points per bolt than easier routes.
Stick Clipping the first bolt is allowed, however you must attempt the route.
If draws are hanging cool, if you hang 'em that's cool too. There is no difference in points.
There are 3 catagories for your pleasure (3 each for Men's and Women's). Beer, Bourbon, and Ol Stones. Just like in real life the beer can take care of many issues however the bourbon is for the harder problems. The Ol' Stones are just there to heckle and have fun and support the cause.
This year we have added a team division — two climbers can compete together. Total points makes the team score. (Note: While you can enter the individuals event online, the team comp must be entered day of the event. The team entry cost is $25 for two people). Of course you can enter both the team competition and the individual comp, however you must pay for both.
There may be mistakes but the scoresheet is the final word.
Finishing time of 5pm means that you have to have the score sheet turned in at 5pm with the scores tallied.
Pre-register online or at the event or even at the sore hill parking, day of the event.
For All Climbers, A Reminder
To ensure that all the comp participants have adequate parking, Sore Hill parking lot will be open only to competitors on Saturday until 2:00pm.
Here are the competition score sheets so you can make your strategy.