What will you do in an emergency? Who will you call?
by Rick Bost
11 October 2010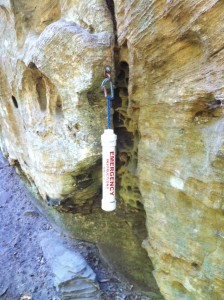 Drive By Emergency Tube
As climbers we put ourselves in a dangerous position. We rely on ourselves, our equipment, and our climbing partner each and every time we climb. We don't expect bad things to happen, however sometime accidents happen. A few months ago our community experienced a tragedy at the Darkside.
The night of the accident I had a chance to talk with climbers that were at the cliff that day. Through our discussions, I felt pain of my friends, as we searched for the why.
That night everyone was shaken, but I asked questions looking for ways that the RRGCC could help. There is little that the RRGCC can do to prevent accidents. When I asked what could have been better, here is what they said:
"We did not know who to call or what the phone number was
We did not know what county we were in
Even though we sent a runner out to meet the ambulance, they missed each other
We did not know how to explain to the Rescue Squad where we were in terms that they understood
The Rescue Squad did not know where the Darkside was…"